Sep 30, 2020
Midwest Industrial Supply Teams with OCP Construction Supplies on MineKleen® Underground Mine Dust Control System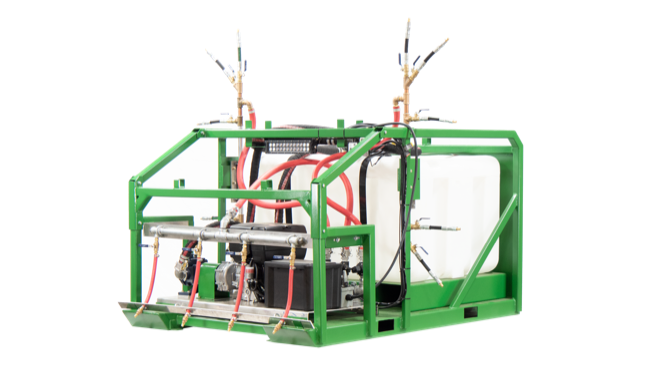 Canton, Ohio – Sept. 30, 2020 – Midwest Industrial Supply, the leader in dust control and soil stabilization innovation, today announced its partnership with OCP Construction Supplies to offer the MineKleen® Underground Mine Dust Control System in Northern Ontario. OCP, which also offers Midwest's roadway and tailing dust control products, will offer Midwest's MineKleen System effective immediately.
"We're thrilled to strengthen our relationship with OCP," said Jim Silva, vice president of Midwest's mining unit. "OCP has served customers reliably and has represented the Midwest brand very well since we began working together."
"We've partnered with Midwest to support the mining community with various supplies for the past 10 years," said OCP owner Rick Cousineau. "The MineKleen System has been implemented at five of our underground customers' sites and the feedback has been very good."
The MineKleen System is engineered for maximum dust control in hard-rock underground mines. The system can eradicate up to 95 percent of dust while reducing water usage by up to 95 percent. The system – designed by miners – is the result of years of research in some of the harshest underground mine conditions. The Midwest team brings decades of cutting-edge molecular technology to this new system.
Midwest developed the MineKleen Plus proprietary chemical formulation consisting of a synthetic fluid plus polymeric binder system. This system binds fines together, creating a pavement-like strength that gets stronger with use. Midwest's proprietary formulation is environmentally safe, verified by several Canadian authorities and the U.S. EPA.
The system also includes the MineKleen Sprayer, a unique distribution system designed specifically for underground mines. It enables the formulation to be applied to roads, backs and ribs at the same time, enhancing productivity.
Northern Ontario mining engineers seeking underground dust control solutions should contact Dan Carpenter at 888-762-3695 or visit MineKleen.com.
OCP Construction Supplies, headquartered in Sudbury, Ontario, specializes in the distribution of construction materials for contractors and project owners working in the fields of ICI, infrastructure, and residential construction and maintenance.
Midwest Industrial Supply is a pioneer in the fields of dust control and soil stabilization, having helped to found the industry almost 50 years ago in Canton, Ohio. Since then, Midwest has constantly innovated in the field, always staying ahead of the competition with new breakthrough technologies. Midwest's products focus on controlling dust at the molecular level, offering long-lasting, demonstrable results.