Sep 1, 2020
Midwest Introduces MineKleen® Underground Dust Control System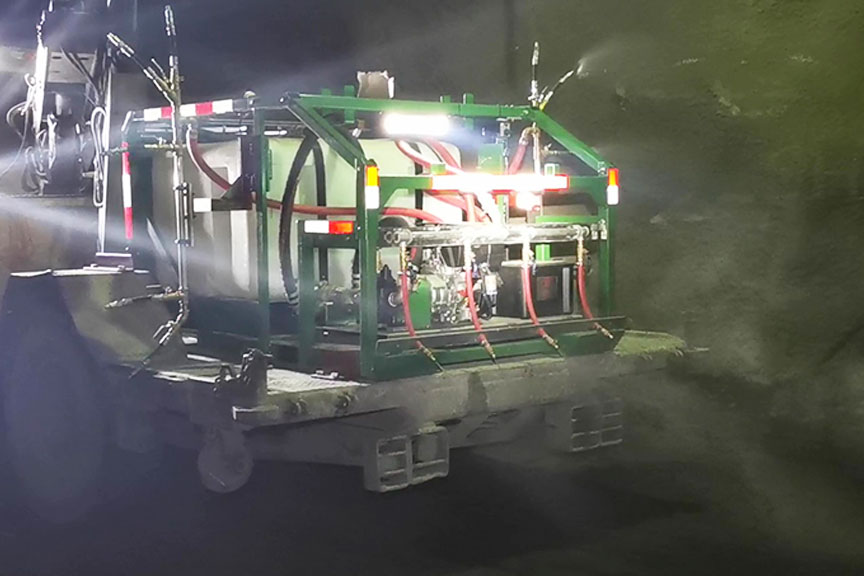 Canton, OH — Midwest Industrial Supply Inc., the pioneering leader in dust control and road stabilization technology, today announced the release of a new system for dust control in hard-rock underground mines. The MineKleen® Underground Mine Dust Control System, which is customized to customers' specific mine sites, can eradicate up to 95 percent of dust while reducing water usage by up to 95 percent in underground roads and ribs.
The MineKleen system is the result of many years of research, development and application in some of the harshest underground conditions on the planet. The Midwest team brings decades of application expertise and cutting-edge molecular technology to this new system.
In response to the challenging environment of underground mines, Midwest developed a proprietary chemical formula consisting of a synthetic fluid plus polymeric binder system. This system binds fines together, creating a pavement-like strength that only gets stronger with use.
Midwest's proprietary formulation is environmentally safe, verified by the U.S. EPA and several Canadian federal, provincial and territorial authorities.
"MineKleen keeps particulate matter out of the air, enhancing regulatory compliance and the health and safety of mine workers," said Jim Silva, Midwest's vice president of mining solutions. "It helps roads hold up longer, even in heavily used areas."
The system also includes the MineKleen Sprayer, a unique distribution system designed specifically for underground mines.
"Our uniquely designed MineKleen sprayer enables our formulation to be applied to roads, backs and ribs at the same time, enhancing productivity," said Dan Carpenter, Midwest's underground mine technical manager. "Training resources and support from the Midwest team also help to ensure maximum performance and results."
One mine, which tested Midwest's formula against a generic dust control product used previously, cut costs by 35 percent, saving nearly $225,000 annually in dust control. The mine also extended the days between applications to 14 days from every three days required by the generic product, while decreasing annual applications from 122 to 28. Manhours required for underground mine dust suppression and road stabilization dropped from 487 to 133, while the running surface of the mine roads dramatically improved. Reduced road maintenance and less watering boosted worker productivity in moving product out of the mine.
Fugitive dust is a chronic enemy of underground miners. It reduces productivity and efficiency of operations. It is a major irritant and can lead to severe, ongoing health conditions. Regulations governing permissible airborne particulate matter are increasing, making compliance tougher.
Mines seek an affordable way of managing dust. For many, watering is the go-to solution. But this only compounds the challenges. Watering has to be done repeatedly to have any real impact. This means using watering trucks and manpower that could be better used elsewhere. This also contributes to reduced productivity, as the roadway is turned to mud. Finally, regular watering actually degrades the road by washing away fines (the small particles that hold the road together, keeping larger material in place). So, road maintenance and rebuilding costs escalate.
Midwest is a pioneer in the fields of dust control and road stabilization, having helped to found the industry nearly 50 years ago. Since then, Midwest has constantly innovated in the field, always staying ahead of the competition with new breakthrough technologies. Midwest's products focus on controlling dust at the molecular level, offering long-lasting, demonstrable results.
Midwest Industrial Supply Inc., headquartered in Canton, Ohio, is a leader in dust control and soil stabilization technology as well as rail lubrication, anti-icing and de-icing applications. The company manufactures and delivers environmentally sound solutions around the world to clients in the quarry, mining, construction, iron and steel, rail and mass transit industries, as well as dozens of others where success depends on overcoming dust, erosion, ice or unstable soil conditions. Midwest has been named to the INC. 5000 list of the fastest-growing private companies seven times.
Learn more about the MineKleen Underground Mine Dust Control System.